When I first started making tofu, my favorite and most simple way was to marinated cubes of the tofu in soy sauce and brown sugar. Then I would boil some noodles, sauté some veggies and the tofu, then toss it all together to make a sort of 'lo-mein.'
The recipe has evolved very little over the years the main difference being what veggies and what carbs I have on hand. Lately I've been enjoying it with Israeli couscous. To me, it is less like traditional couscous and more like a mini pasta—think even tinier orzo. I like it because it's not as gritty and dry as couscous and has more substance than rice but not as much as spaghetti noodles.
I'm sure those of you who already do gluten-free know that pearled couscous is a wheat product so it's not suitable for those who are sensitive to wheat or gluten. However if you'd like to make it for yourself or a sensitive friend, you could substitute brown rice. And be sure to swap in gluten free soy sauce as most brands often also contain wheat.
I realize the recipe looks long but it's not that complicated—a lot of the steps can be done in advance. It's best to read the whole recipe first then you can probably just wing it.
Marinated Tofu + Israeli Pearled Couscous
Time: few hours to press tofu, 8 hours to marinate (ideally, but a few hours will do if in a pinch) then a half an hour to an hour to prep and cook
Serves 4-6
Ingredients
Notable Tools + Stuff
Directions
Press Tofu (a few hours before marinating or at least six hours before serving time):
The first thing you want to do is press tofu to remove the excess water. What I do is wrap my block in a towel and set on the counter, place a small cutting board on top and then something heavy like a dictionary or soup can to weigh it down. I let it press for quite a while, I do a few hours. Sometimes, if I remember, I'll change the towel halfway through because it can get pretty saturated.
Marinate (8 hours or at least a few hours before serving):
Cut your tofu into 1" cubes.

Put in a seal-able container or bag.

Sprinkle the brown sugar, ground ginger and granulated garlic over top then pour on the soy sauce.

Shake it up so everything gets coated.

Store in fridge for at least a few hours but ideally overnight/eight hours. Shake the container every once in a while to make sure the soy sauce is soaking nicely into and around all the tofu cubes.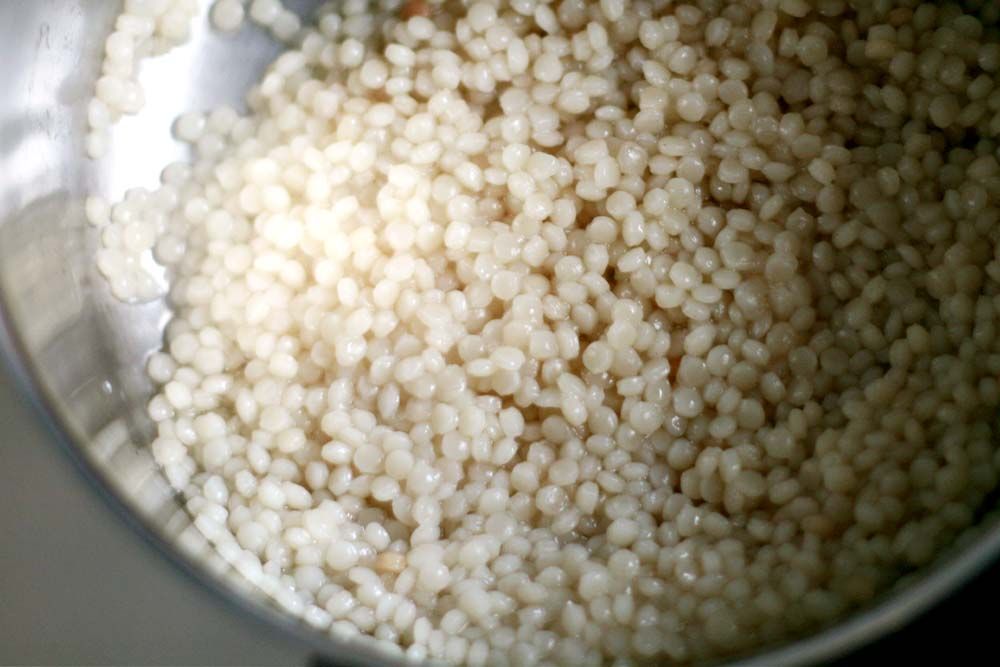 Cook the Couscous:
Bring two cups of water to a boil over high heat. A pinch of salt is optional. (Whenever I cook couscous I add salt or sometimes even left-over veggie broth but with this recipe you want to be cautious of the salt content.)
Add the couscous and drop the temperature to low. With the lid on, simmer for 10 to 12 minutes or until most of the liquid is absorbed and couscous is tender. Then I turn off burner, give the couscous a toss with a spoon and let sit for a little while longer without the lid  to finish absorbing the rest of the liquid.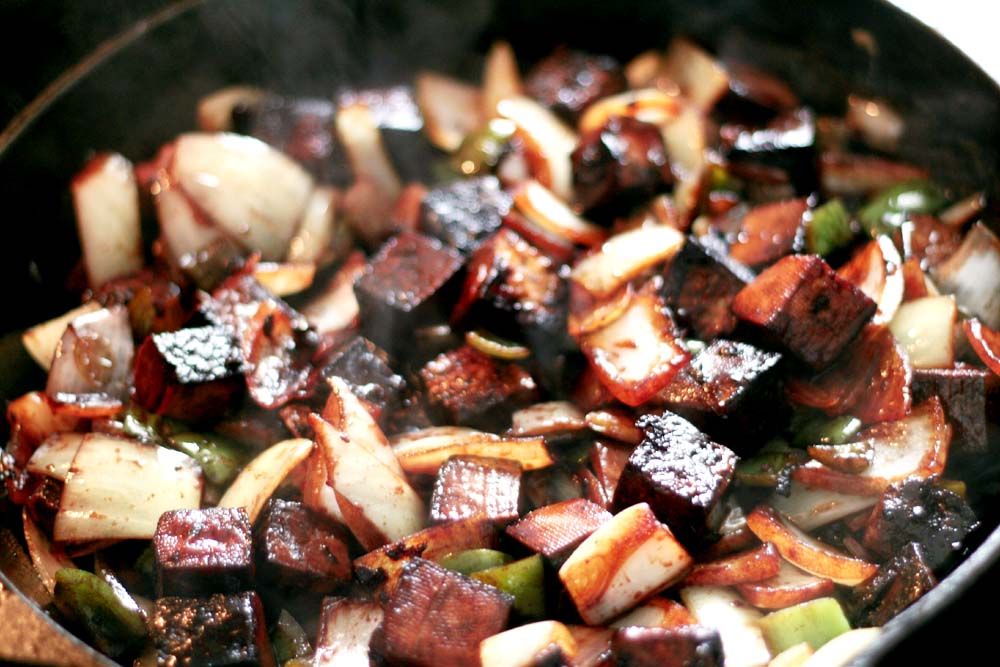 Cooking Tofu and Veggies:
While the couscous is simmering I like to prep all the various veggies I want—chop up the onions, water chestnuts, peppers, etc. You may want to steam things like broccoli to desired texture because you will only be sauteing it.
Get out a frying pan (cast iron is my favorite) and a lid that fits over it, a medium sauce pan and your serving bowl and a bowl big enough to temporarily hold your tofu. You will cook the tofu first then set aside so you can either use a temporary bowl big enough to hold it or just dump it into your serving bowl.
On medium heat, sauté just the tofu cubes in oil, reserving the excess marinade for later. One of the tricks I've learned to get really great tofu is to cook it over medium heat for a longer time, instead of high and quick. Keep them on the burner until at least two sides of the cubes are nicely browned.
Transfer tofu to your bowl temporarily.
Now you'll cook up you veggies, also on medium heat. I cook until my onions are just before the texture I like them at. This is where the lid comes in handy, it can help trap the moisture in and cook them quicker.
Then you pour the extra marinade into the frying pan.
Add your tofu back to the pan and continue to cook until most of the marinade is absorbed, stirring everything occasionally to get everything browning nicely.
Toss the veggies, tofu and couscous in your bowl and serve.
For an easily printable document with pictures click here. For one with just text, click here.